Treatment Centre for Spinal Cord Injuries
Treatment foci
Acute and chronic paraplegias
Decubital ulcers
Treatment of spinal spasticity
Our clinic
The Treatment Centre for Spinal Cord Injuries is treating patients with paraplegia caused by accidents, congenital malformation, tumours or inflammations of the spine.

The rehabilitation activities on the part of our specialised medical team are focusing on maximal autonomy of the patient. This includes i.a. individual auxiliary devices, exoskeleton-therapy and special pain therapy. Patients and their relatives are being informed during regular seminars how to cope with the new situation. Our outpatient centre guarantees a life-long aftercare.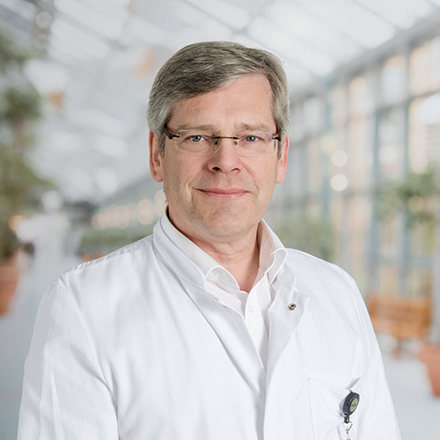 Vita
Dr. med. Andreas Niedeggen
Chief Physician of the Centre for Spinal Cord Injuries

since 2005
Chief Physician of the Brandenburg Centre for Paraplegia / Beelitz-Heilstätten

since 2003 
Deputy Chairman of the Medical Council of Experts of the Federal Association for Rehabilitation (BAR)

since 1997
Chief Physician of the Treatment Centre for Spinal Cord Injuries, Unfallkrankenhaus Berlin
Specialist in Neurosurgery and in Special Pain Therapy and Traffic-Medical Consultant.